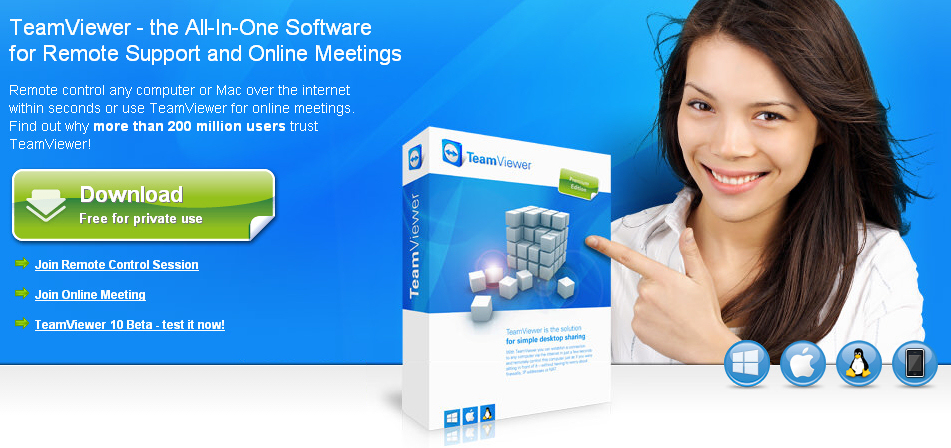 CComputers use Teamviewer as their Remote Access/Support package of choice, you can click the Graphic Above and you will be taken to the Official Website.
How secure is TeamViewer?
All TeamViewer versions use full encryption. Encryption is based on 2048bit RSA private/public key exchange and 256 Bit AES session encoding. This uses the same security level as https/SSL and is considered completely safe by today's standards. The key exchange also guarantees that the data channel is completely encoded from client to client and that any routers or servers in between (including our routers) are unable to read or analyze the data stream. Security and privacy have always been a top priority during development.
Which operating systems are supported?
TeamViewer is available for the following operating systems:
Windows
Windows 8 / 7 / Vista / XP
Windows Server 2012R2 / 2012 / 2008R2 / 2008 / 2003 / 2000*
Windows Home Server / Home Server 2011
Mac OS
Linux
CentOS, Debian, Fedora, Mandriva, Mint, Red Hat, SUSE and Ubuntu
Android
TeamViewer for Remote Control: Android version 2.3.3 and later
TeamViewer for Meetings: Android version 4.0 and later
TeamViewer QuickSupport: Android version 2.3.3 and later
iOS
TeamViewer for Remote Control: iOS 5.0 and later
TeamViewer for Meetings: iOS 5.0 and later
TeamViewer QuickSupport: iOS 5.0 and later
Windows Phone
TeamViewer for Remote Control: Windows Phone 8 and later
BlackBerry
TeamViewer for Remote Control: BlackBerry 10.3 OS and later